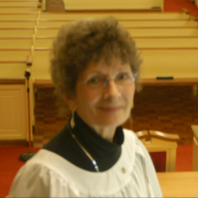 Joy Smith Briggs, Organist
home: 423-878-2919
Email: gvbjoyb@btes.tv
Joy Smith-Briggs joined the Central staff as organist in September, 2011. Joy started her organ career in a small Baptist church in her native Easton, PA. As a teenager, she played the piano in a tent for a Moravian congregation that was starting a new ministry in her neighborhood. She later became the organist/choir director at that church.
A graduate of Ball State University in Muncie, IN, she has a degree in Secondary Education with a concentration in Spanish. While working for the Department of Housing & Urban Development (HUD) in Indianapolis, IN, she met her husband, Guy, a faculty member and administrator at UVA-Wise, who took her from her beloved flatlands and cornfields of IN to the mountains of SW VA where she became a 'mountain woman'. She retired as director of Family Crisis Support Services, a domestic violence and sexual assault program in Norton, VA.
Joy has served as organist in Episcopal, Lutheran, Christian Scientist, Methodist, and Presbyterian churches in PA, IN, KY, VA and TN. She comes to us from Sinking Spring Presbyterian in Abingdon, VA. Joy holds a Colleague of the American Guild of Organists (CAGO) certificate, which requires extensive study and playing of specific repertory, all of which is judged and graded by independent AGO adjudicators.
Her interests include her 4 children, 6 grands and 2 greats, all of whom live scattered about the country, so she spends her time gardening, searching out antiques and spending time at the best organ in Bristol, TN/VA. She considers herself greatly blessed to be a part of the CPC church family.
The household includes her husband, Guy, 4 cats and one Golden Retriever.